Project Description
Flat pack container house is mainly used by the project department of the construction site as an office building, and the usage has increased several times compared with the previous years.
The office buildings of China Construction Group, MCC Construction Group, China Railway Construction Group and other large construction units are all based on box-type rooms.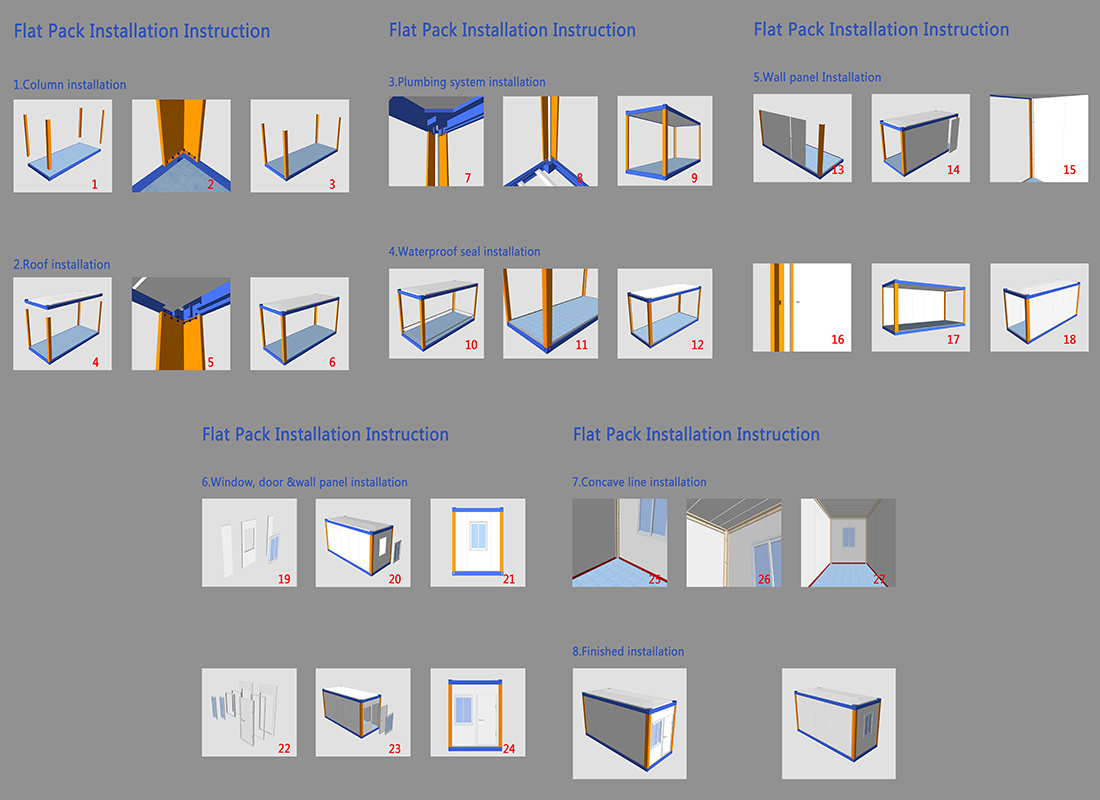 Flat pack product details
Bottom
Frame structure
3mm thick profiled steel
Floor
Fiber cement,waterproof, fireproof (Option MGO)
Floor finshes
2.0mm PVC flooring
Roof
Frame structure
3mm thick profiled steel
Outside cover
0.45mm steel sheet
Insulation
100mm glass wool
Ceiling
0.5mm steel sheet bottom tile
Coener post
5.0mm cold rolled steel profile, galvanization, welded (Flooring:210mm*150mm*200mm  Bottom:210mm*150*200mm)
Wall panel
Sandwich panel with 75mm rock wool
Window
Sliding UPVC profiled windows with dimension 800mm*1100mm (double glass)
Door
Steel door with dimension 840mm*2035mm
Electricity
Light, Switch, Socket, distribution box, breaker and wire
Painting
Automatic galvanizing and baking paint spray molding
Exterior size
6058(L)*2438(W)*2896(H)
Suzhou Zhongnan Steel Structure Co., Ltd is a manufacturing integrated production enterprise, a professional manufacture of residential container houses/ prefab houses ( including assemble container house, flat pack container house, shipping container house, scenic hotel exhibition house), color steel sandwich panels, steel structures and color steel prefab houses.